Traditional Egg in a Hole is served in a hollowed out piece of toast – – this one uses nutritious veggies and places the whole thing on top of a slice of toast. The side salad is a great flavor boost.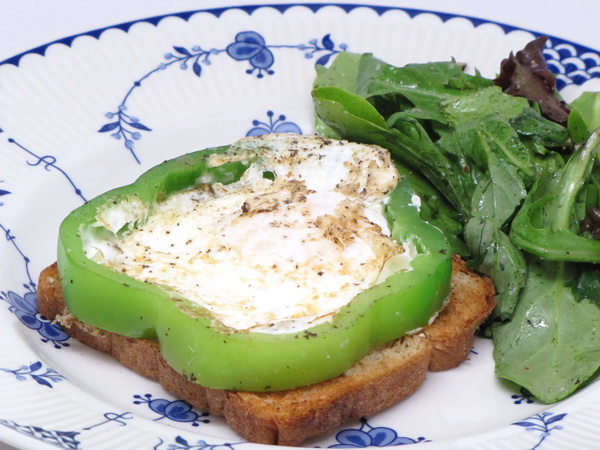 4 servings
189 calories per serving
2 t oil
1 green bell pepper cut into 4 rings ½ inch thick
4 large eggs
Salt and pepper
2 t parmesan cheese
4 slices whole wheat bread (45 calories each)
8 c mixed salad greens
In a large skillet heat 1 t oil and add peppers then crack eggs into each pepper hole and sprinkle with salt and pepper. Cook 2 minutes or until egg whites are mostly set. Flip gently and cook another minute then sprinkle with cheese and place each on a slice of toast. Mix greens with 1 t oil, salt and pepper and serve next to the eggs.